Race Information & History
Race Type: Mostly flat monument
La Classicicissima is another old old bike race, starting up in 1907 (and an amateur 2-day version in 1906). The soon to be 2-time Tour de France winner Lucien Petit-Breton won the first race.
The 1920s were dominated by Costante Girardengo who won the race 6 times and had 5 further podium places. The Italian dominance continued into the 1940s with heavyweights like Alfredo Binda, Gino Bartali & Fausto Coppi all winning the race.
1949 saw the race use its current finish on the Via Roma for the first time. The Poggio was introduced in 1960 to try to break up the success of non-Italian sprinters but it took another 10 years for an Italian win. Eddy Merckx dominated the 1960s/70s with 7 victories. His erstwhile rival Roger De Vlaeminck also picked up 3 wins. The 1980s saw no single rider
dominate as they had the previous decade.
After a couple of wins for Laurent Fignon and Sean Kelly, Erik Zabel
was the next to take a stranglehold on the race. He took 4 wins and a
pair of 2nd places around the turn of the millennium. Oscar Freire took 3
wins, the only rider to win San Remo more than once since 2000.
The 2013 edition saw riders ride on buses to avoid the snow and many
riders quit early. Gerard Ciolek was the surprise non-WorldTour
level winner for MTN-Qhubeka.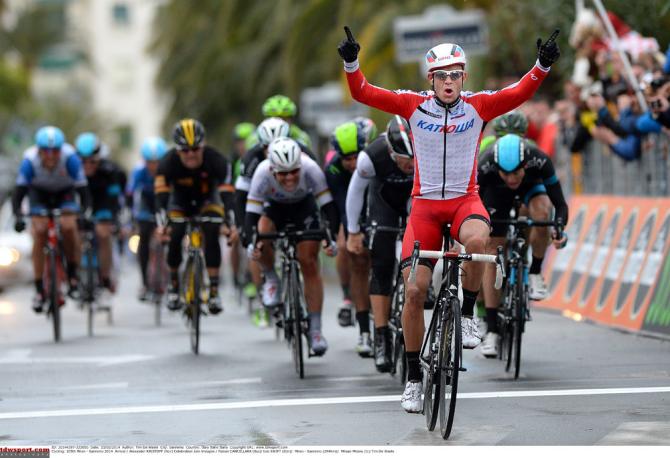 Greatest Race
1910
There have been a few epic snowy editions (like 2013) but the 4th ever race takes the crown. The weather at the start in Milan was fine but heavy snow had fallen on the Turchino Pass at the halfway mark. Many riders didn't even start the race. Even less eventually made it as far as the pass.
Van Hauwaert was the first over the top with a 10-minute lead but chose to get warm in a house by the roadside and didn't continue. The eventual winner Eugene Christophe (first wearer of the Tour de France's yellow jersey) also stopped but carried on after finding some trousers to wear.
He thought he'd gone wrong on his way to San Remo so didn't realise he'd actually won at the finish line. Only 4 riders finished the race.
Christophe was hospitalised for a month with frostbite after the race
for good measure too.
Iconic Section
The Poggio is the final climb of Milan San Remo and the launchpad for attacks for the descent to the finish line, just 7km from the
summit. The Poggio is 4km long at an average of 3.7%.

Introduced in 1960, the climb gives non-sprinters a chance to attack and win the race. A bendy descent follows the summit, rewarding bravery and technique in the quest to be the winner of La Primavera.