We've missed out on the Tour of Flanders this year (other than on Bkool) but the climbs are still there. The race has legendary status amongst the locals as it features in their national identity. Ronde van Vlaanderen race day is almost like a national holiday in that part of the world.
The race itself has had a few changes in the last decade, moving the start and finish lines a few times. The old finale of Kapelmuur followed by the Bosberg disappeared for a new run-in to Oudenaarde. The move saw the previously important Kapelmuur taken out the race for a few years. The Oude Kwaremont and the Paterberg took on the responsibility for deciding race winners instead.
Below is a full list of each of the climbs used in the Tour of Flanders since 2010. Each climb has a count of how often it's featured in the race, a link to the Strava segment so you can see where it is and a profile to see the toughness. Not every climb is cobbled but many are, they're tough, as I found out when I did the Tour of Flanders sportive in 2018.
For a good read-up of the history of the race, check out Peter Cossins – The Monuments.
Oude Kwaremont
Times used since 2010
11
Strava
https://www.strava.com/segments/17025770
Profile
---
Paterberg
Times used since 2010
11
Strava
https://www.strava.com/segments/640400
Profile
---
Taaienberg
Times used since 2010
11
Strava
https://www.strava.com/segments/6954419
Profile
---
Koppenberg
Times used since 2010
11
Strava
https://www.strava.com/segments/11757524
Profile
---
Steenbeekdries
Times used since 2010
11
Strava
https://www.strava.com/segments/9361998
Profile
---
Leberg
Times used since 2010
9
Strava
https://www.strava.com/segments/19651427
Profile
---
Berendries
Times used since 2010
9
Strava
https://www.strava.com/segments/608903
Profile
---
Eikenberg
Times used since 2010
8
Strava
https://www.strava.com/segments/608892
Profile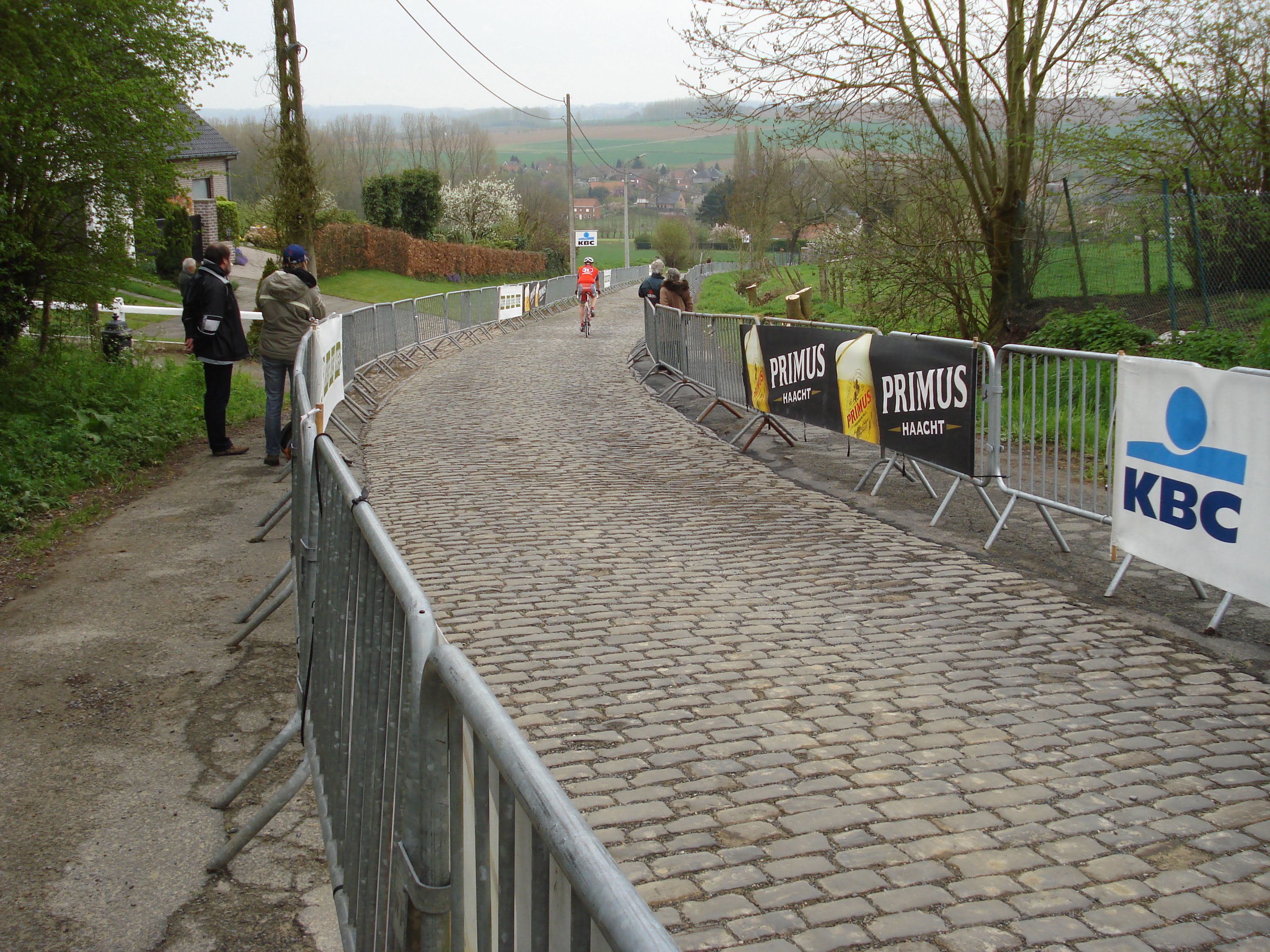 ---
Kanarieberg
Times used since 2010
7
Strava
https://www.strava.com/segments/2738278
Profile
---
Kortekeer
Times used since 2010
7
Strava
https://www.strava.com/segments/5001625
Profile
---
Molenberg
Times used since 2010
7
Strava
https://www.strava.com/segments/608898
Profile
---
Wolvenberg
Times used since 2010
7
Strava
https://www.strava.com/segments/6899724
Profile
---
Kruisberg (Oudestraat)
Times used since 2010
7
Strava
https://www.strava.com/segments/6062466
Profile
---
Muur – Kapelmuur
Times used since 2010
6
Strava
https://www.strava.com/segments/1058183
Profile
---
Tenbosse
Times used since 2010
6
Strava
https://www.strava.com/segments/1294961
Profile
---
Valkenberg
Times used since 2010
6
Strava
https://www.strava.com/segments/9703392
Profile
---
Kaperij
Times used since 2010
4
Strava
https://www.strava.com/segments/19651413
Profile
---
Kruisberg (Hotond)
Times used since 2010
3
Strava
https://www.strava.com/segments/712095
Profile
---
Tiegemberg
Times used since 2010
3
Strava
https://www.strava.com/segments/641313
Profile
---
Rekelberg
Times used since 2010
3
Strava
https://www.strava.com/segments/1173560
Profile
---
Nokereberg
Times used since 2010
2
Strava
https://www.strava.com/segments/21693457
Profile
---
Pottelberg
Times used since 2010
2
Strava
https://www.strava.com/segments/1820437
Profile
---
Bosberg
Times used since 2010
2
Strava
https://www.strava.com/segments/608910
Profile
---
Knokteberg (Cote de Trieu)
Times used since 2010
2
Strava
https://www.strava.com/segments/16098939
Profile
---
Edelareberg
Times used since 2010
1
Strava
https://www.strava.com/segments/7588957
Profile
---
Den Ast
Times used since 2010
1
Strava
https://www.strava.com/segments/1030580
Profile
---
Kluisberg
Times used since 2010
1
Strava
https://www.strava.com/segments/608876
Profile
---