TWO STAGES AND GENERAL FOR THE 'DANISH ROCKET'
THE 'TELEPHONE' SQUAD, WITH AN INSPIRED LEAH THOMAS, FLIES THE YOUNG DANISH CHAMPION TO REPEAT HER TRIUMPH OF THE DAY BEFORE AT GARNICH AND WIN THE YELLOW JERSEY. MOVISTAR TEAM, 9 SUCCESSES IN 2021 -FIVE FOR THE WOMEN'S BLOCK-
Never had Movistar Team completed a women's stage race with the brilliance it did this weekend at the Elsy Jacobs Festival (UCI ProSeries) in Luxembourg. Emma Norsgaard finished off at Garnich, the scene of a once again winding second and last stage (105 km), a fantastic triplet of triumphs by winning the last sprint of the race and adding a general win awarded with enormous authority.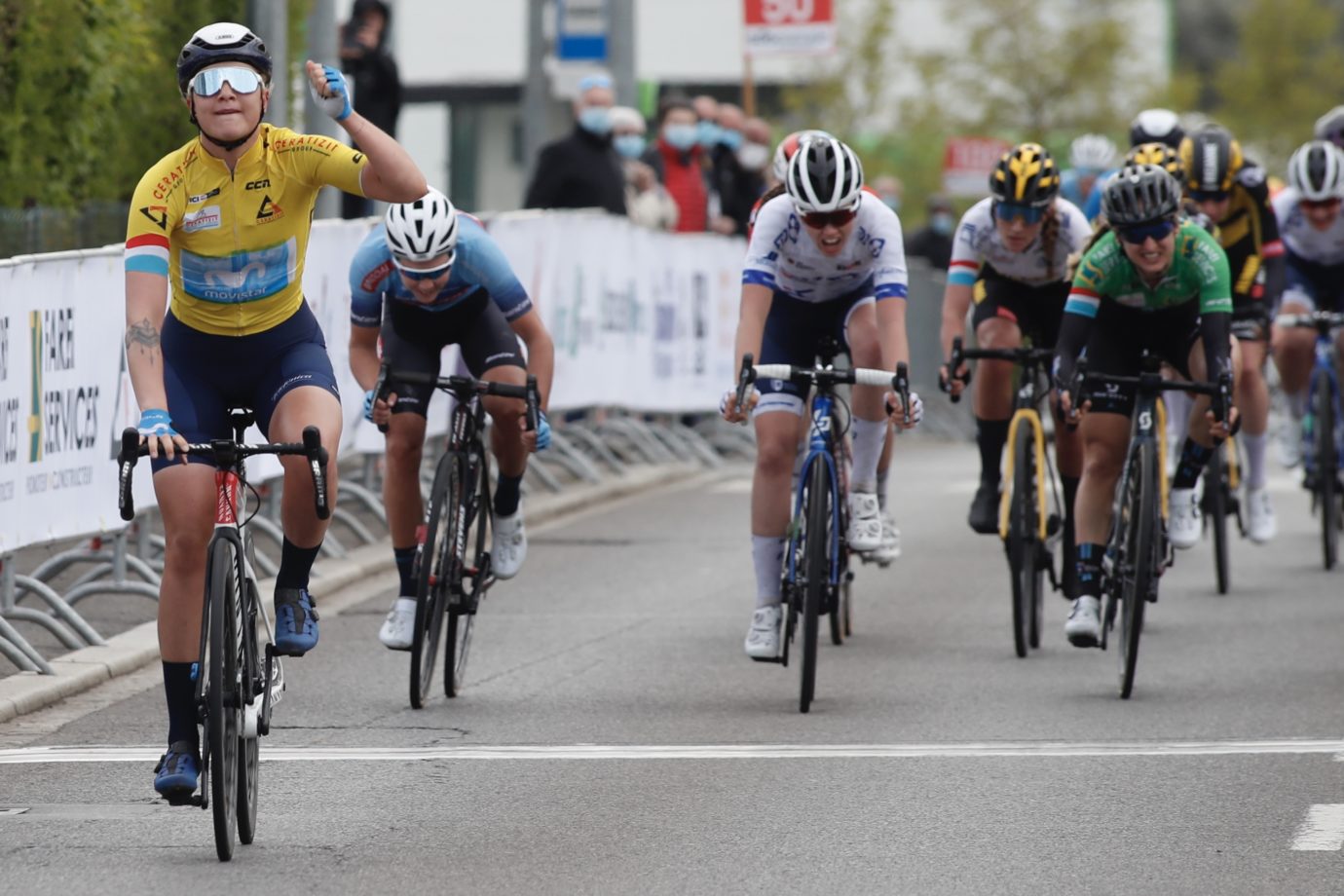 The squad led in the Grand Duchy by Jorge Sanz once again exhibited a seamless race. Alba Teruel, Barbara Guarischi, Aude Biannic and Lourdes Oyarbide took care of Norsgaard in the first half of the race and Leah Thomas led her to the last kilometre, covering her against the wind, guiding her and going out in a thousand and one attacks without ever showing signs of weakness. In the sprint, Emma knew how to wait for the right moment to beat the Italians Confalonieri (WNT, 2nd) and Bertizzolo (LIV, 3rd).
Norsgaard's hat-trick brings the Abarca Sports structure's triumphs to nine in 2021. The women's squad is, for now, ahead on the scoreboard against the men's (5-4) after a weekend, by many reasons, unforgettable for the Movistar Team chaired by Eusebio Unzué.
STATEMENTS / Emma Norsgaard:
"Very, very happy for this final win. It is a great joy to be in this team, every day I am happy with the decision I made. Because of the work they do for me every day, because of how well treated I feel… It is an incredible feeling. Proud of the work that I have done these days and how well they have had me wrapped up.
I've ridden by Leah's side all day. When we have gotten into that final cut together, she has always taken me where I needed her and made all the necessary movements to make it calm, especially on the climbs. Whatever cut there was, she would dry it off. Hers is a large part of today's triumph.
I had very good legs today, even better than on Saturday. At all times I felt that I had the race under control … and with these colleagues, it could not be otherwise. I have had no doubts that I could pass the heights and when I got into that final group I knew it was the right move. In short, happy for the successes of these days ".
CLASSIFICATIONS> 2nd stage + General Final
---
Saturday May 1 – 1st stage: Steinfort (125.1 km)
Emma Norsgaard (Movistar Team) put an end this Saturday, in the 1st online day of the Luxembourg Elsy Jacobs Festival (UCI ProSeries), to an almost uncountable run of good places without a long-deserved victory. The young Danish champion (21 years old) prevailed with authority in the group sprint in Steinfort, also wearing the yellow jersey of the overall leader, to respond to the magnificent teamwork of her five teammates.
Barbara Guarischi, Lourdes Oyarbide and Alba Teruel protected the 'Rocket' throughout the day against the wind, while monitoring the numerous cuts at the head of the platoon after the day's escape with Leah Thomas . The North American continued her work – together with an Aude Biannic focused until the final stretch on leading Norsgaard through the peloton – in a spectacular launch, leaving no opportunity for other great teams, which culminated with Emma prevailing with distance over Confalonieri (WNT , 2nd) and Kirchmann (DSM, 3rd).
It is the fourth UCI triumph for Norsgaard, winner of two national championships -whose title she still holds- and the first stage of the Setmana Valenciana 2020. One that will undoubtedly help the young Nordic cyclist to achieve many others with the telephone numbers in the next few months.
STATEMENTS / Emma Norsgaard:
"When I crossed the finish line, the truth is that it was more a feeling of relief than of joy. It has been a 'finally', the result that I have been looking for all season. Relief first of all, but then when I saw my companions, it was pure happiness. They have done a wonderful job for me again today, sacrificing all to achieve this victory… I am super proud of this team, being part of the Movistar Team has been an incredible experience for me.
What we discussed in the pre-race meeting between us has been followed and fulfilled to perfection. Everything we wanted to do, and how we wanted to plan the race, has been followed closely. Looking ahead to the sprint, we didn't even have to talk to each other: they passed me before the final corner, they took me perfect on the launch, I just had to grab their wheel and everything turned out perfect. It was a perfect sprint, without more.
The truth is that it was difficult for me to remain calm during the stage, I always had the feeling of needing to move to go out depending on what cuts, but Aude has managed to get along very well, insisting: 'Emma, ​​calm down, you have to wait. I have tried to calm those emotions but it has been difficult, really.
I dedicate the victory to the whole team, to everyone who makes it up. They are always pushing, always sacrificing, and I can finally offer them something more than second place. We are going to give up everything to try to defend the leader's jersey. It will be very difficult, but with this victory I have much more confidence, the team also has that morale and I am sure we will have a fun day ".
CLASSIFICATIONS> 1st stage and General
---
Friday April 30 – Prologue: Cessange (2.2 km)
On a technical, winding track – a tough starting ramp – and in which some riders even opted for road bikes and not time trial bikes, the Dutch sprinter Lorena Wiebes (DSM) became the first leader of the Elsy Jacobs Festival ( UCI ProSeries) with a 3″ advantage – a remarkable difference in a CRI of less than two hundred seconds- over her teammate Leah Kirchmann (3'12 vs 3'15 ").
Two of the Movistar Team members concluded within a range of less than ten seconds with respect to the winner: Emma Norsgaard , who with her 3'19 "was seven seconds behind Wiebes in 10th position, and Barbara Guarischi, who finished 13th with a second more than her teammate. The race is of always tight differences and that will offer, tomorrow Saturday in Steinfort and Sunday in Garnich, an endless succession of short slopes.
CLASSIFICATIONS> Foreword
Cover image (c): Photo Gomez Sport