Today's time trial at the Bloeizone Fryslan Tour somehow happened without a hitch. As expected, Ellen van Dijk won the stage and took the lead in the general classification. The only rider to crash all day was Romy Kasper, who lost the rear wheel on some painted road lines in the final corner. It was a nasty-looking crash but the barriers did their job and prevented serious injury.
So why have the race organisers been criticised?
Well on the TV coverage we began to see numerous examples of riders on city bikes riding the course against the flow of the riders racing. It looks like they were coming off a bike path that had no marshall and just riding as they normally would on any other day. A couple of times, riders met them very close to the apex of the slight corner and had to adjust around them.
City bike riders were seen repeatedly approaching from the right-hand side, seemingly unaware that there was a race taking place. There didn't appear to be a marshall, a barrier or any signage at that point.
That wasn't all though. A van was seen quickly reversing back into a driveway after briefly completely blocking the road with a ride approaching. A car drove through the finish line in the direction of the riders (below), making the rider have to adjust off their racing line again to avoid making contact. This driver ignored the instructions of marshalls and came close to running over the race director.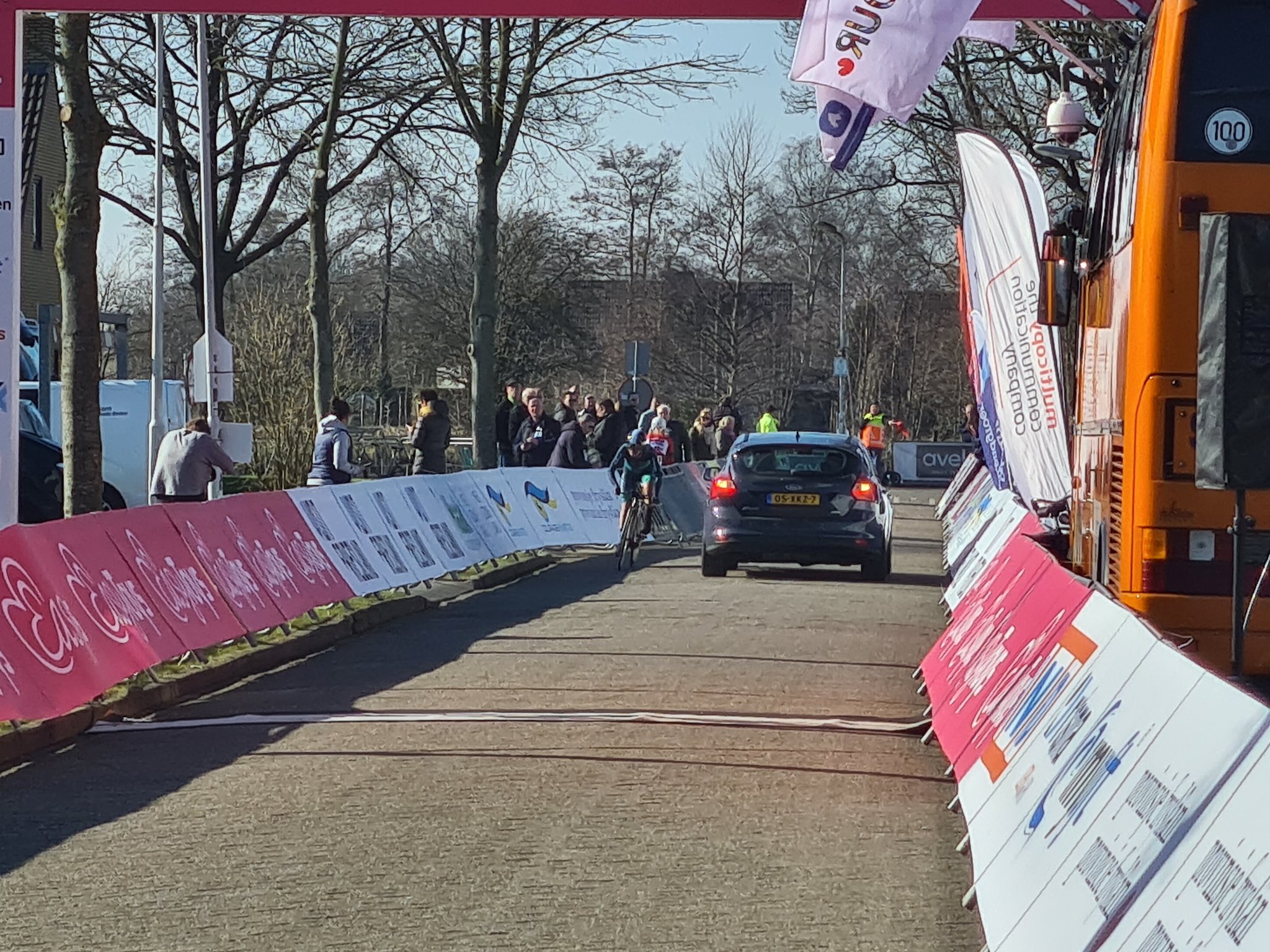 Comments
The time trial took place on a completely closed course. All streets were secured with 89 traffic controllers. The cars and cyclists came from houses and driveways on the course. The bus driver was approached by the police. Ignoring an instruction from a traffic controller is a criminal offence in the Netherlands. Characteristic of a time trial is that the course must be completely closed for 5 hours.

The solution is that in the future we will no longer include a time trial in a stage race. Despite the fact that the course is completely closed, this is unavoidable. It is a bitter observation that organizing a time trial is hardly possible anymore.

Bloeizone Fryslan Race Organisers
"Christine Majerus (SD Worx) who represents women's cycling on the UCI Safety Commission has spoken with CPA and The Cyclists Alliance to ensure that the race commissaires consider the risk that many riders encountered today due to the lack of policing of the 'closed' road for the ITT course. Many riders experienced some disruption to their race effort from recreational cyclists cycling towards the riders and vans pulling out of driveways to name a few examples. This puts the riders' safety at risk and more must be done in the following stages to mitigate this risk. We have contacted the race organisers for details on how they plan to mitigate the risk for the following stages".

The Cyclist's Alliance