The Women's Driedaagse De Panne could turn out to be the last WorldTour race of the very odd 2020 season. The Madrid Challenge on 6-8th November is currently scheduled to go ahead but plenty are expecting it to not take place due to Covid. The Bretagne Ladies Tour is the only other race still on the calendar in two weeks time.
As the name suggests, Driedaagse De Panne used to last for 3 days, well the men's race did. As the men's race switched from 3 days to 1 day in 2018, a women's race was added and a junior race too – thereby getting back to 3 days of cycling. So there's not the greatest or longest list of winners of this race. The area around the seaside town of De Panne is pan flat, so it's no surprise that this race is one for the sprinters. 2018 saw 37 contest the bunch sprint and 2019 saw 24 riders sprint.
The weather looks interesting for racing on Tuesday. Relatively warm at 17 degrees, that will be offset by the close to 20mph winds. Plus there's a 60% chance of rain which could causes issues with slips and slides. The wind direction is from the south, so a solid head/crosswind from Bruges to the circuit at De Panne. On the circuit itself, there are all sorts of opportunities for potential echelon action. The sprinters teams are going to have to work hard to keep the race together.
Recent Winners
2019 – Kirsten Wild
2018 – Jolien D'Hoore
2017 – Not Held
2016 – Not Held
2015 – Not Held
TV Coverage
Live on Eurosport Player & GCN Race Pass
Sunday 18th October
13:00 – 15:15 (BST)
Women's Driedaagse De Panne 2020 Profile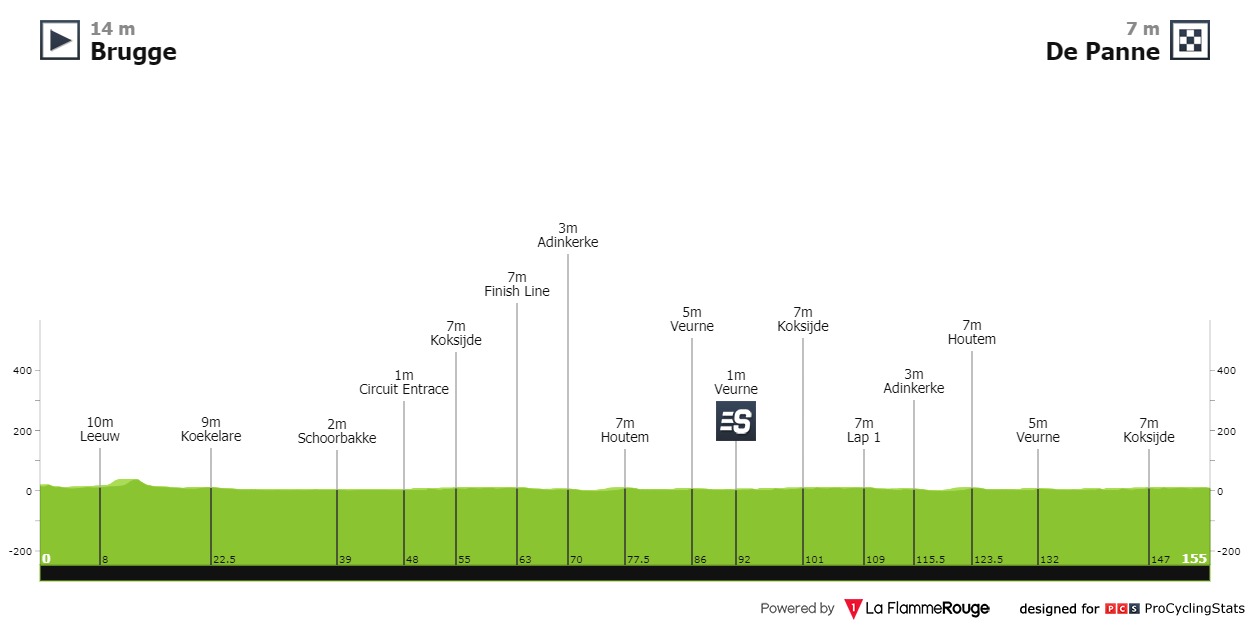 Women's Driedaagse De Panne 2020 Favourites
Ceratizit-WNT's Kirsten Wild won last year's Driedaagse De Panne. The only road racing she's done in 2020 has been at the Giro Rosa which didn't have a suitable finish for her to sprint. So we've got no real idea what her form is. We do know that she's got 108 wins in her career and she normally excels in these flat races. Wild has ended up not being on the startlist
Lorena Wiebes is the best sprinter in the women's peloton right now. She's only been able to take a pair of wins in 2020 but won the sprint from the bunch at Gent Wevelgem last weekend. With nothing remotely like the Kemmelberg to worry about in Driedaagse De Panne, she'll be a big favourite.
Lotte Kopecky is still in great form. She's finished in the top-4 in each of the last 7 races she's finished. She's had to climb in most of those races but won't have to worry about that here. She's got a great chance of winning here but may find herself on a lower step of the podium. Aussie Sarah Roy took a great 5th place at the Tour of Flanders to match her 4th at Gent Wevelgem the week before. She's had a fairly quiet season until those recent results but clearly has the form. She might struggle relatively against the big sprint specialists.
Emilia Fahlin has had some good sprints in 2020, including 5th in Brabantse Pijl recently. Her highest-profile result was 7th in La Course, sprinting to be the best of the rest out of the second group on the road. The 2020 season started well with 4th at Omloop van het Hageland, finishing behind Wiebes. She's one of the better Tier B sprint options. Elisa Balsamo was 8th at La Course, just days after becoming U23 European Championships. Her sprinting hasn't been as good as it was last year with her only other top-10 all season coming in her first race at the Clasica Femenina Navarra. She'll hope to close out the season with a strong result.
Boels Dolmans once again have a good set of multiple options. There was some hype surrounding Gent Wevelgem winner Jolien D'Hoore going into the Tour of Flanders. However, the climbs took their toll and she dropped back. She's a rider certainly in form though. Amy Pieters has just finished 2nd at the Tour of Flanders, beating out the other riders behind teammate Chantal van den Broek-Blaak. She's been good since the Classics season restarted, finishing 5th at Liège-Bastogne-Liège and 9th at Gent Wevelgem. She has a good sprint and the tough conditions will suit her if it isn't a bunch finish. Finally, there's the former World Champion Amalie Dideriksen who is also a good sprinter. She doesn't have the results in 2020 though, so will probably help out others.

Chevalmeire's Roxanne Fournier has had an up and down season but finished 8th in the very flat GP Euromat a month or so ago. Her inclusion in Driedaagse De Panne is dependent on Chevalmeire being cleared to race. They had to pull out of the Tour of Flanders after reporting a Covid positive. Ale BTC are in a similar boat with a Covid positive. In theory, Marta Bastianelli would be a favourite but she's been struggling with Epstein-Barr for the second half of the season. With no guarantee, the team will be racing and question marks over their star rider, it's unlikely we'll see a strong result. No Chevalmeire and no Ale BTC City Ljubljana, as predicted!
Youngster Charlotte Kool is shaping up to be another great Dutch sprint talent. She finished 6th at the Setmana Ciclista Valenciana and Omloop van het Hageland early on in the season. Since lockdown her best result is 2nd at the GP Euromat, only losing out to Lorena Wiebes. Only the weather conditions should prevent a decent result for Kool here. With no Kirsten Wild, Ceratizit-WNT's hopes will be Maria Giulia Confalonieri and Lisa Brennauer. Confalonieri is more of a sprint specialist and took 8th in GP de Plouay and 7th in Brabantse Pijl. However, Lisa Brennauer is not a bad sprinter either. Her recent 3rd place finish at Gent Wevelgem confirming that. Brennauer is a solid top-10 bet with 11 finishes of 10th or higher this season from 18 starts.
Women's Driedaagse De Panne 2020 Outsiders
Parkhotel Valkenburg have a pair of sprinting options. Karlijn Swinkels was 5th at the GP d'Isbergues recently. She's followed it up with 17th at both Brabantse Pijl and Gent Wevelgem. She feels close to a true breakout result. Her teammate Amber van der Hulst is in a similar boat too. She was 6th at the GP d'Isbergues herself and also 4th at the GP Euromat. She's got the potential for a good result here but will certainly be worth watching in 2021.
Kim de Baat has been struggling a little recently with the hills in race routes but she scored 9th at the flat GP Euromat and 6th at the Belgian Nat Champs. 3 DNFs and a DNS in a row isn't too encouraging but it's only been a month since the national championships. Austrian Kathrin Schweinberger is someone I tip as a sprint outsider a fair bit. She's another with a run of DNFs, 4 in her last 5 races. Again though, it's not been long since she was 7th at the GP Euromat and 12th at the GP d'Isbergues. It could go either way for her here.
Lastly, Norwegian Vita Heine has traditionally been a solid sprinter. She was 4th in her Norwegian nationals and 14th at Brabantse Pijl. These are by far her best results all season though. Alternatively, there's Mieke Kröger who can sprint well on a flat course. She was part of the break at the Tour of Flanders but doesn't really have any results this season to make her a sprint favourite.
Race Prediction
1st
Lorena Wiebes
2nd
Jolien D'Hoore
3rd
Lotte Kopecky